What will an awning offer us?
If you pick the right awning for your lifestyle, it could double your holiday living space.
Which one you choose depends on what you're going to use if for, and how often. If you'll be using it a lot, go for the best quality fabric and frame you can afford. If you're using it only occasionally, you can select a lighter, less expensive option.
Both full and porch awnings are available, in a huge variety of styles, fabrics, colours and prices for all pockets.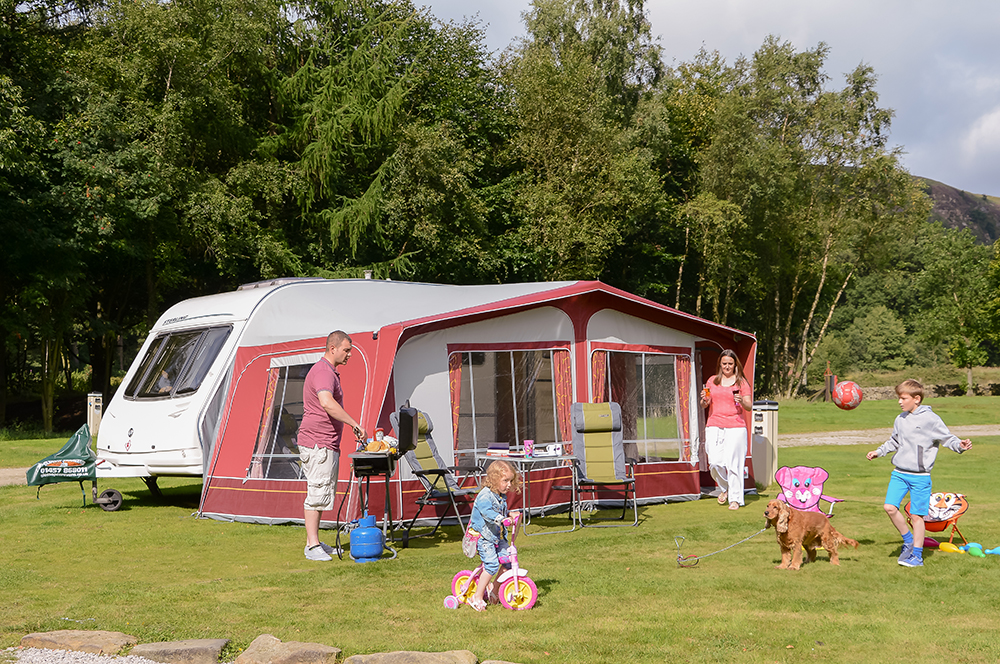 This will more than double your living space - perfect if you want a safe place for your children to play in, the dog wants to get out from under your feet or you want a sheltered area where you can entertain family and friends.
It will also give you lots of leeway to store everything from toys and bikes to wet coats and barbecues.
If there are just two of you, and you need a covered area to sit and relax, plus some room to store coats and walking boots, a porch awning might suit.
They also tend to be lighter and quicker to build than full awnings - though of course you'll have less space!
Choosing your frame - metal or air?
Which metal?
Steel is best if you intend to park your caravan somewhere for a full season so you can visit for regular holidays and weekends - simply because it's strong and can withstand all weathers.
Lightweight aluminium or glass fibre are practical choices for touring.
Walking on air
Air-frame porches are a recent innovation. Most come with an easy-to-operate manual pump that inflates the porch in a few minutes - leaving you more time to relax and enjoy yourself!
We have a huge range of both new and used full and porch awnings at our Glossop showroom. Prices start as low as £200 for a new, basic awning and from £99 for a well-maintained used awning.
You can browse everything from budget porches to top-of-the-range full awnings, and our friendly and approachable experts are always around to give useful advice based on your budget, the size of your caravan and the amount of space you're looking for. Click here to view Glossop Awnings range.
Download our First Time Buyer Magazine here