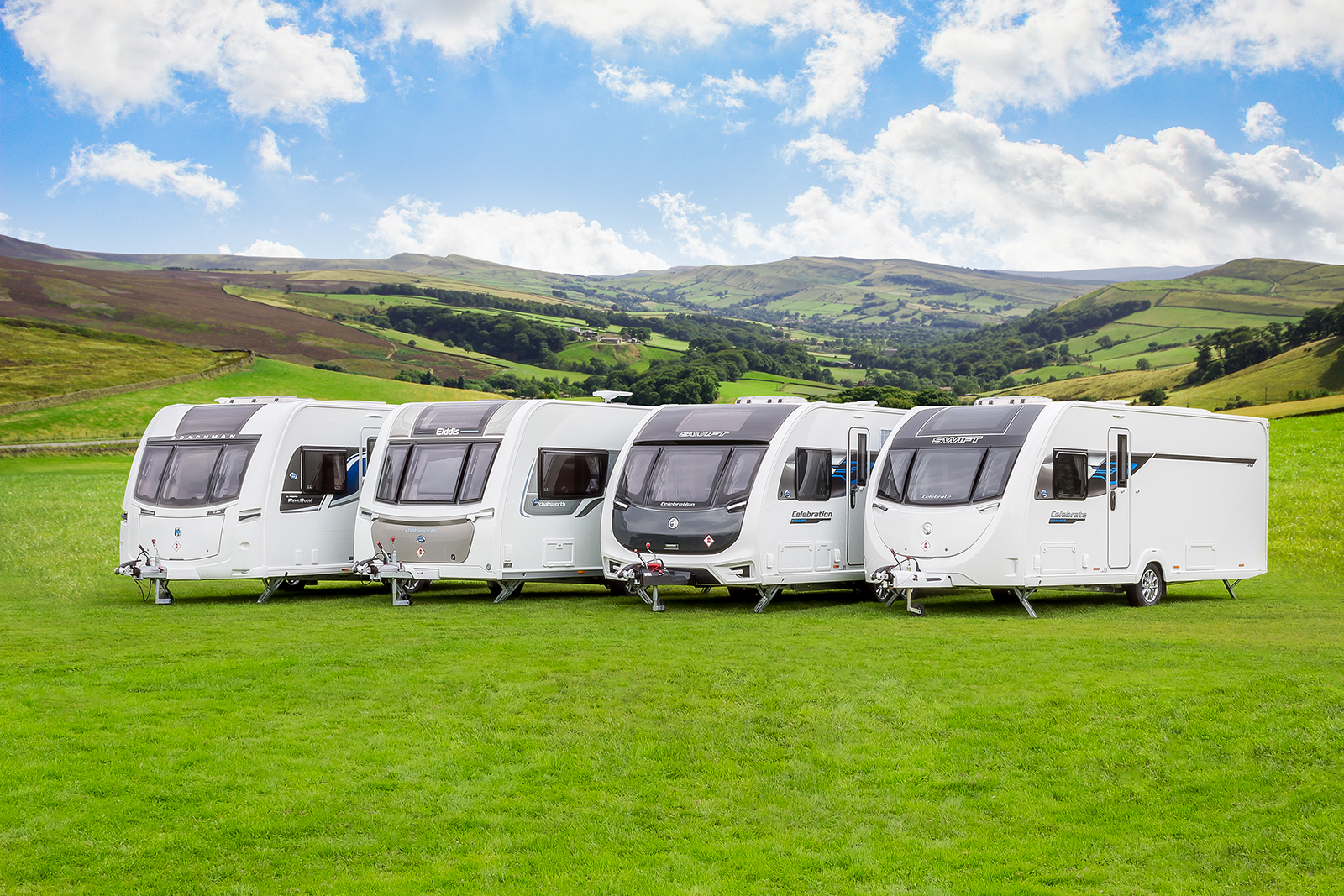 News Release 21st February 2018 (NEC)
Visitors to The Caravan, Camping & Motorhome Show at NEC Birmingham invited to experience the quality and comfort on offer in the brand new 2018 range
Interest in Glossop Caravans' first-ever range of Special Edition motorhomes is high – and visitors to The Caravan, Camping & Motorhome Show 2018 will get the chance to snap up their superb quality at very competitive prices.
The family-run company – one of the leading dealers in the UK – will be exhibiting its prestigious new Swift Celebration range alongside its ever-popular Special Edition caravans at this week's show at the NEC Birmingham (February 20 to 25).
Various models from two-berth to six-berth options will be on display next to the company's Special Edition 2018 Coachman Festival, Elddis Chatsworth and Swift Celebration caravans – plus a wide range of products and accessories from Glossop Awnings – on stand 2210.
Customer demand has persuaded the family-run company to extend long-established relationships with leading UK manufacturers Elddis and Swift to create a luxuriously-appointed selection to complement its popular Special Edition Caravans.
"We've been working closely with the UK's top three manufacturers to create luxury caravans at affordable prices for the past 25 years – and they've never been more in demand," said Stan and Brian Laing, Joint Managing Directors, Glossop Caravans.
"Over the last few years, they've earned a number of prestigious awards for the quality of their design and workmanship, which have raised standards and scored a massive hit hit with our customers.
"Their positive reaction persuaded us to take on a new project to work with both Elddis and Swift to offer the same high specification and attention to detail at unbeatable prices in our new Special Edition motorhomes 2018.
"Since we launched the range last month, both models have been extremely well-received by our customers, and sales are on an upward curve.
"We look forward to welcoming as many visitors as possible to our stand during the show, to see for themselves the versatility and variety of the specially-appointed vehicles now available."
Motorhomes are becoming increasingly popular as more and more people discover the freedom and flexibility they can bring to their leisure time – whether on carefree weekends away, once-in-a-lifetime road trips or midlife 'gap' years.
Fans of the company's Special Edition caravans will appreciate the Swift Celebration's chic new look – grey and gold upholstery and geometric-patterned curtains and cushions – plus a new Elddis Chatsworth option, the 462 lightweight two-berth.