Ready for our great adventure
Time off. Take off. Together.
Relax and enjoy the whole experience, and you'll grow in knowledge and understanding without really trying.
Don't try too hard to take in everything at once. A sense of humour, a smile and a little laughter go a long way as you learn all about caravanning. Take time to sit back and enjoy the ride!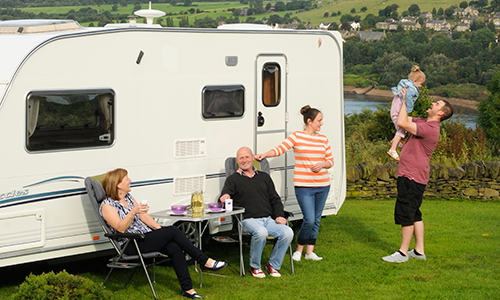 Choose anything from a quiet, secluded farm setting to a bustling family-oriented site buzzing with activities. The Camping and Caravanning Club and Caravan Club have a nationwide network of accredited locations with guaranteed standards of facilities. Both are a valuable source of advice and information for people new to caravanning. There's also a wide selection of privately-run sites across the UK.
If you have young children, go for a site with a play area, plenty of open space to explore and run around in and close to family attractions and/or the beach. If you have a dog, choose one in an area with plenty of public footpaths, open access land or beaches where you are allowed to walk them. To relax and unwind, opt for secluded surroundings, where the only morning call is likely to be birdsong.
Book a basic manoeuvring course so you feel confident when handling your caravan and can learn to appreciate the basic principles of both towing and reversing. It might seem strange at first, but you'll be surprised how soon you get the hang of it. Both The Camping and Caravanning Club and Caravan Club can advise.
For your first great adventure, it's a good idea to select a site that isn't too far away from home, so that you can get used to the feel of towing your caravan without too long a journey. Second time round, you'll feel much more relaxed at the thought of venturing further afield.
Think about what you want to do when you arrive. Will you be using the site as a base from which to explore the surrounding area, or would you prefer to have lots of facilities on site, so you don't have to stray too far? Do you want a countryside break or a beach holiday? Do you want peace and quiet or plenty going on? This will help you choose the perfect location for you.
As you gain experience, take the opportunity to explore areas of the UK you have never been to. If you're planning regular weekends away, you'll be pleasantly surprised just how many fascinating destinations are within a short drive of where you live. If you fancy an overseas break, both The Camping and Caravanning Club and Caravan Club can recommended accredited locations overseas and will book the whole package for you, including sites and ferries.
Swap ideas and information
Ask for help if you need it, with everything from setting up your caravan safely to finding out about things to see and do and places to shop and eat in the surrounding areas. Talk to other caravanners about sites they have been to that they would recommend. If they're staying alongside you at a site you both like, chances are you'll enjoy locations they've been to before. Word of mouth is often worth its weight in gold.
Don't try too hard to take everything in at once. Relax and enjoy the experience, and you'll grow in knowledge and experience without really trying. If something goes wrong, put it right together with a sense of humour and a smile. A little laughter goes a long way - and once you've sorted the problem, you won' make the same mistake twice!
Download our First Time Buyer Magazine here