WELCOME BACK
Great news – Glossop Caravans will re-open on Monday 1 st June.
As you know it is vital that we follow the advice we are given to Stay Alert and minimise the risk of transmission. The health and safety of our customers and staff is our main priority at this stage and we hope that you will appreciate the measures that we are taking to ensure this.
If you are a regular visitor you will notice some changes as we rearrange our sales and waiting areas to allow for social distancing. You may also see some of our staff operating from behind safety screens or wearing gloves and masks. We have provided sanitiser and hand gels throughout the business and have a thorough approach to cleaning and hygiene; distancing markers will be visible in relevant areas. We have Safety Hubs positioned around the business where you can make use of sanitiser, masks and gloves. Most of all please don't visit us if you have any symptoms and help us to maintain social distancing by shopping with the smallest family group that you can.
We look forward to seeing you very soon – in the meantime please look at the following sections to find out what you need to know when visiting us.
"We are delighted to be able to open our doors again. We look forward to seeing many old friends and making new ones as we get you back on the road to Great British Holidays"
Brian, Stan and the Glossop Team
Caravan and Motorhome Sales
To help ensure that we can offer you a safe and pleasant shopping experience we have a special invitation for you. You are probably familiar with the wealth of information that is available on our site to help you choose the perfect caravan or motorhome. We invite you to select the caravans or motorhomes that suit your needs and either reserve them online or call us to make an appointment to visit.
This way we can ensure that the caravans and motorhomes are prepared and disinfected and locked up ready for your visit. A member of our team will be waiting to assist you and guide you through the new processes we have put in place to make your shopping experience safe.
Because we are intent on reducing the risk of transmission customers will only be able to view a caravan or motorhome when accompanied by one of our team. Our reception will be open to offer guidance, hygiene items and PPE.
If you decide to make a purchase, we would ask that you pay electronically either by BACS transfer or remotely by card. Your salesman will assist with all your queries as always and you are welcome to call or hold a Zoom meeting with them at any point. Your paperwork will be issued electronically where possible.
If you are considering using a finance option for your purchase you can contact our Business Manager, Christian Askham by phone or email ca1@glossopcaravans.co.uk , ahead of your visit to discuss this and save you time in the showroom on the day of your visit.
If you have taken out finance for the purchase or your caravan or motorhome our Business Manager Christian Askham can be contacted by phone or email ca1@glossopcaravans.co.uk to discuss your queries.
Caravan and Motorhome Collection
Customers with vehicles that were due out during the lockdown will be prioritised for collections where possible. You will be contacted by our despatch department with an appointment time for your collection. We would appreciate it if you would attend with only those people necessary to ensure a safe and smooth handover. Your caravan will have been sanitized after preparation and cleaning and we will not enter the vehicle again after this stage. We are looking at alternatives for your handover and will be offering telephone calls, Zoom meetings and video film where possible to introduce you to the features of your caravan so that we do not meet with you in an enclosed space.
We would ask you where possible to make sure that your payment has been made by bank transfer 5 days before attending for collection. If this is not possible please speak to your despatch administrator ahead of your visit to agree the payment method.
Please only attend at your appointed time as we will have very limited waiting space so that we can maintain safe distances.
If you have arranged finance for your caravan or motorhome purchase our Business Manager, Christian Askham can be contacted by phone or email ca1@glossopcaravans.co.uk to answer any queries you have ahead of your collection.
If you have a part exchange, please empty and clean your caravan or motorhome at least 3 days before you are due to bring it to us and do not re-enter it. We will then be able to carry out the assessment on your vehicle without delay.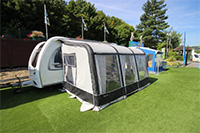 Our awnings show room will be operating in a different way until further notice. We will be operating online as normal along with any purchase you wish to make remotely by phone.
As the showroom will be operating with skeleton staff we would prefer if possible, for you to make an appointment with a member of the sales team, prior to your visit. For those collecting a caravan or motorhome on site and wishing to discuss a purchase with our sales team we will be operating a queuing system, to allow us to manage and meet the 2 metre distancing guidelines.
We will accept online payments and card payments in store but no cash payments will be accepted. All receipts of awnings payments can be emailed direct.
Our Accessory Shop will be open but may look a little different. A one way system will be in place and you will need to keep 2 metres apart from other shoppers; we would ask that you touch only the accessory items you intend to purchase. Our staff will be able to offer you help with choosing the right items is you are unsure. At the moment we will be accepting payment electronically and you will be able to do this remotely to save touching the card machines. We will always try to send your invoice electronically.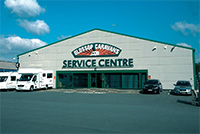 In the first phase of opening we will be completing outstanding servicing work and opening our booking lines for servicing now due. If you already have a booking we will be contacting you in turn with a revised date. Please be assured that we have measures in place for those customers on warranty and we can work flexibly with this in the initial period. Admission to the servicing department will be by appointment only so that we can maintain safe distancing for our customers and staff. We will be taking all payments electronically for the time being.
WE'RE LOOKING FORWARD TO SEEING YOU BACK IN GLOSSOP VERY SOON!